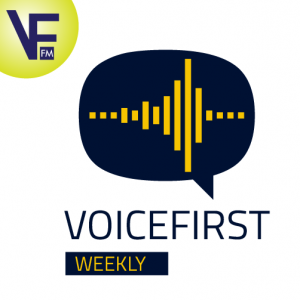 The VoiceFirst Weekly podcast is a daily briefing of voice technology, conversational AI, voice strategy impact in different industries. It's hosted by Marisniulkis Lescaille, @mlescaille on Twitter, follow her for more content on emerging voice tech. The topics might range from investment trends in voice to rants about gendered brands.
If you're interested in learning how voice technologies such as Amazon Alexa, Google Assistant, Apple Siri, Microsoft Cortana, and others are impacting industries and how companies are leveraging it, then this show is for you. Every morning we release a short episode, between 2-5 mins in length. All the transcripts of every episode can be found in this site at voicefirstweekly/flashbriefing.
How to listen
Web
We have a page with all the links to where to find us in social media.

Alexa
If you are listening from the US or India, you can enable VoiceFirst Weekly flash briefing in the Alexa app.
If you are listening from any other country you can listen through TuneIn in Alexa by saying: Alexa, play VoiceFirst Weekly from TuneIn.
Google Home & Assistant
For Google Home users you can say Ok Google, Talk to VoiceFirst Weekly, you will receive a confirmation message, say yes and next you are listening to the wonderful episode of the day.
In the Assistant app in your phone, available for both iPhone and Android users. You can either type or press the microphone to talk and say Ok Google, Talk to VoiceFirst Weekly.
iTunes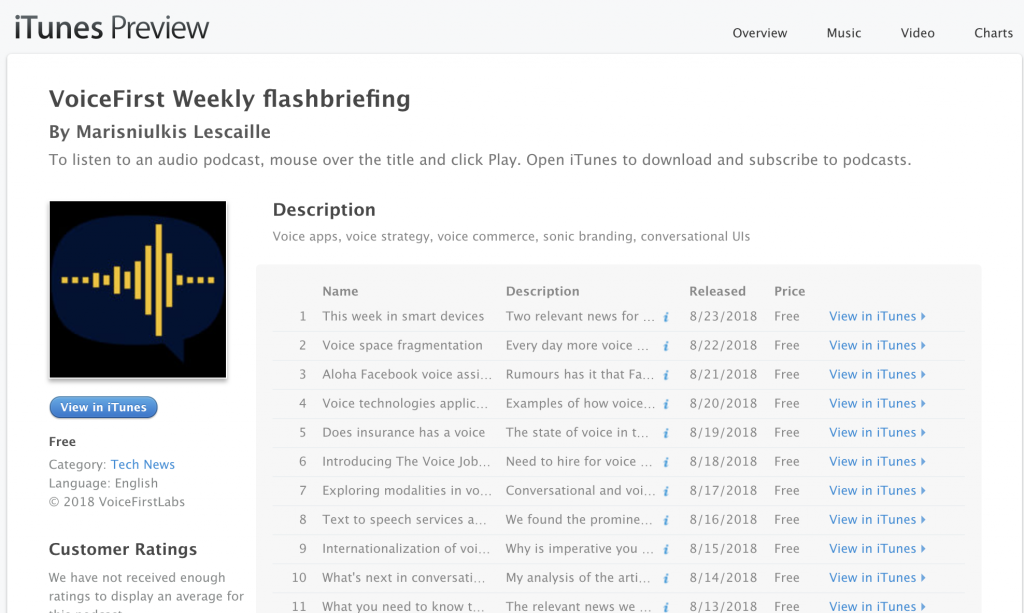 Go to the podcast in iTunes.
Apple Podcasts
To subscribe in Apple Podcasts where you'll get notified whenever we have a new episode, go to Podcasts app in you phone. go to search and look for VoiceFirst Weekly. Find the logo as above click the show and then subscribe. Here's a visual orientation:
Spotify
We are available on Spotify!
Google Play
To listen on Google Play, got to the music store and search for VoiceFirst Weekly: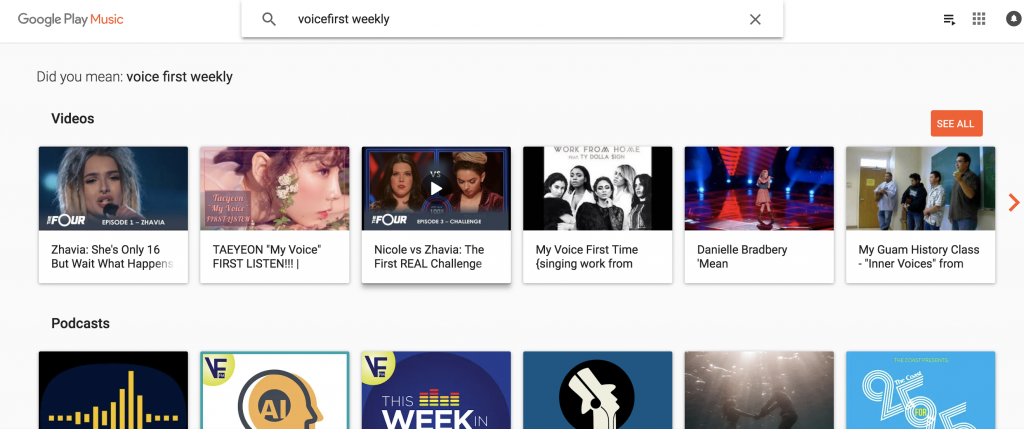 Google Podcasts
VoiceFirst Weekly podcast is available on Google Podcasts.
TuneIn
VoiceFirst Weekly podcast is available on TuneIn.
CastBox
VoiceFirst Weekly podcast is available on CastBox.
iHeartRadio
VoiceFirst Weekly is available in iHeartRadio
If you are having any trouble listening contact us.