Hi there! My name is Marisniulkis and I'm a software engineer who moved to the US 6 months ago and started hearing about Alexa and voice technologies. I was immediately hooked. I'm so excited about the number of possibilities that voice can bring to people of all ages that I decided we needed to do something about it. I'm an overall entrepreneur, a thing that it's kind of natural in my family. Along with one of my best friends we created and ran a consultancy business. From server set up to programming to legal contracts. Everything that needed to be done. We parted ways as we both left the country to different places in South America. During the same time I also founded VenusIt, a non-profit organization aiming to empower and advance the career of women in Cuba. Raised money for the first Celebration of Women in Computing held in Cuba with support of ACM and Microsoft, unprecedented for an event in Cuba. When I moved to Uruguay I continued my entrepreneurial path until I found an ad for this program for entrepreneurship in Silicon Valley and ended up in San Francisco! Not bad for a girl from Guantanamo.
When I first heard about Alexa, Google and home assistants in American homes I realized how the technology it's in a place to be truly accesible to everyone. And this is a transition that can be way less painful to people like my grandma, to people that are getting to internet for the first time. Voice will transform business in every way we interact with interfaces. It's the natural proxy to human interaction. VoiceFirst Weekly wants to be your go-to digest for the most important news in the industry. You can follow me on [thrive_follow_me facebook='https://www.facebook.com/marisniulkis' twitter='https://twitter.com/mlescaille' linkedin='https://www.linkedin.com/in/mlescaille/' email='mari@voicefirstlabs.com']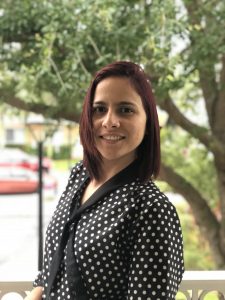 Hi, I'm Nersa. Software Engineer in Palm Beach, Florida. I'm from Cuba. I moved to the US 2 years ago looking for better opportunities for me and my family. I have been a keen advocate for diversity and I joined Mari in VenusIt after I learned about it. Since then we have been good friends and it's been amazing to build something together again.
After working on mobile applications for 4 years I saw voice technologies as an opportunity to a new realm of possibilities in software development. We started looking for resources about Alexa, Google Assistant and Cortana all in one place and we found ourselves scrambling for pieces here and there. Then we told ourselves that we needed to have the information available in the same place if we wanted to get into VoiceFirst as quickly as possible and that's how VoiceFirst Weekly came to life.  You can follow me on [thrive_follow_me facebook='https://www.facebook.com/nersa.acosta' twitter='https://twitter.com/NersaAcosta' linkedin='https://www.linkedin.com/in/nersa-acosta-23b530a2/']
Our mantra is one from 2001: A Space Odyssey:
I am putting myself to the fullest possible use, which is all I think that any conscious entity can ever hope to do.
That's all we want, that as a curated repository of voice technologies you get everything you need.
Welcome and we sincerely hope you find it useful!