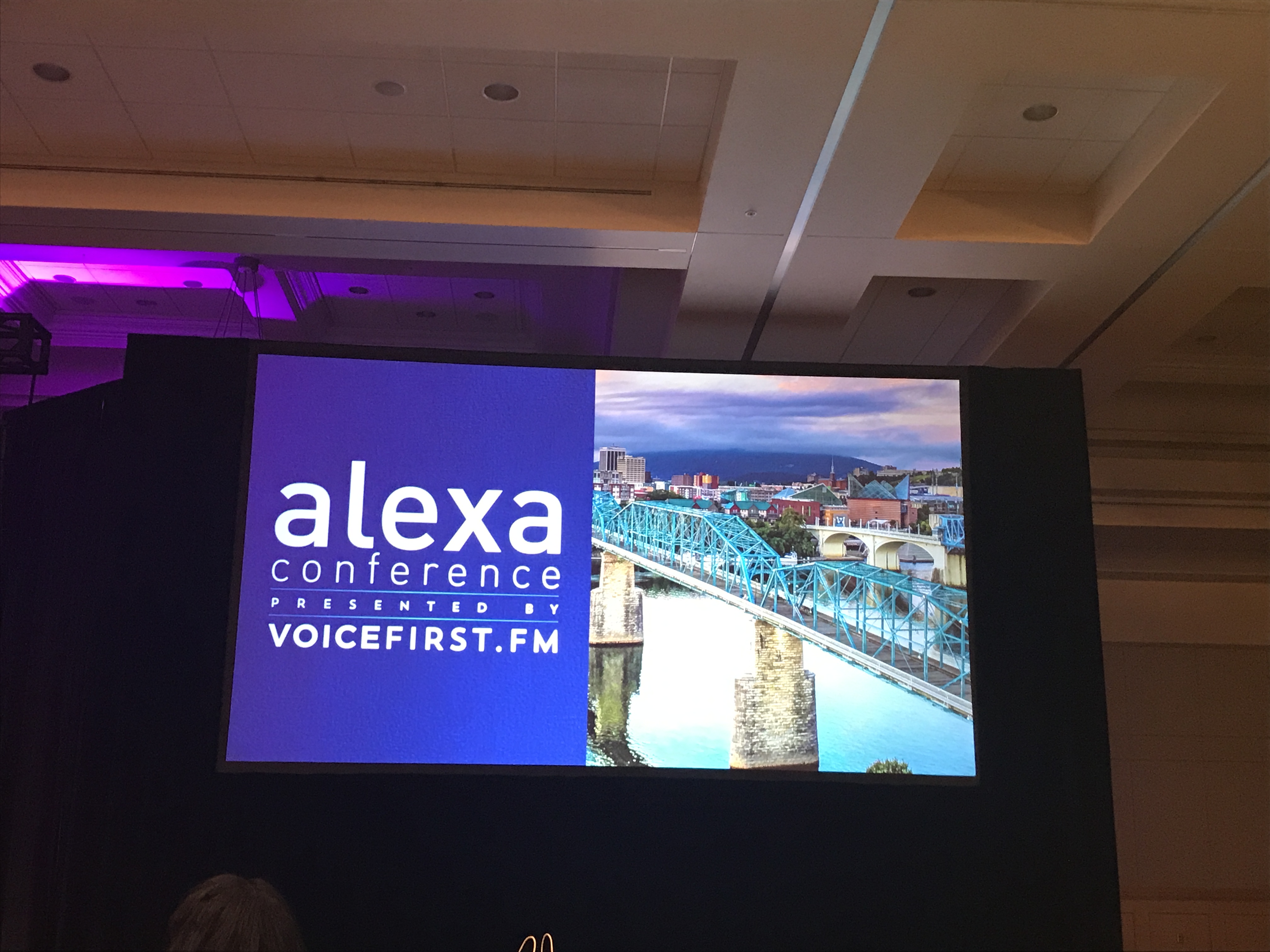 It wouldn't be fair to start this summary with anything else than appreciation for the work Bradley Metrock and his team pulled out organizing the conference. As I said the first day at the conference, it's very strange to not stumble into a technical or logistical problem while setting up a booth at a conference. And yet, that was exactly the experience we had Tuesday, January 15, when we arrived at the booth. From there, everything continued to run smoothly.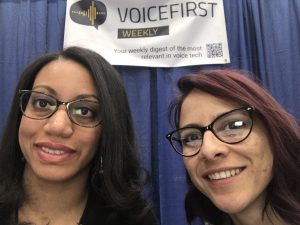 Nersa, co-founder of VoiceFirst Labs and I were mainly in the Alexa Fair area, talking with people on the floor about the work we do with VoiceFirst Weekly (newsletter and podcast) and VoiceFirst Labs. So my view of the conference is mainly from those lenses. I compiled other peoples takeaways that included sessions. Here's a list:
Voice Tech Enters a New Phase: Summary of Alexa Conference 2019
Things said and heard at The Alexa Conference
5 Things you should know about the Alexa Conference
Alexa Conference 2019: Live Stream, takeaways and most requested
The 2019 Alexa Conference Nearly Triples In Size Over Previous Year: A Post-Mortem Report
The main topics:
Voice is maturing, Brett Kinsella one of the keynote speakers of the conference and Editor of Voicebot.ai name it as a second phase of voice in terms of adoption, competition in the space and the integration of voice tech into existing products, this point of a second phase of voice has also been spoken by Brian Roemmele.
Voice in the car: There has been a lot of enthusiasm around the connected car in the recent months as it seems is the next battleground for voice technology companies.
Nearly twice as many U.S. adults have used voice assistants in the car (114 million) as through a smart speaker (57.8 million). SoundHound
Healthcare generated attention: Lots of interest from attendees, voice is making its way to healthcare and incumbents like Mayo Clinic and Orbita are leading the way.
Sonic branding and personality in voice are gaining momentum: Several of the sessions and talks were dedicated to this topic, a hot one in an industry growing as much as voice. Differentiation through personality signals a way for brands to stand out in voice technology platforms.
Storytelling is getting a space: Tellables and X2Games were some of the companies that are presenting an interactive storytelling with smart assistants. What they are doing is at least intriguing and worth checking out. Founder of Atari presented their latest game: St Noire, an intersection between stories, interaction and gaming. Nolan Bushnell also pointed out that half a billion dollars are going to be dedicated to interactive entertainment 🤯.
Podcasts and publications like Voicebot.ai, Bettlement Movement Marketing, Alexa in Canada, VUX World and may I dare to say VoiceFirst Weekly do provide value for users entering the space. It is the impression I took partaking in several conversations and observing visitors at the floor.
Panel Podcasting in the Age of Alexa
I was part of the Storytelling track in the panel Podcasting in the age of Alexa. Audioburst, Gimlet Media and Amplifi were the other companies debating in the panel, which turned out to be very insightful, given we were all from very different backgrounds. The biggest problem for podcasters in the age of smart assistants is the same where smart assistants were not in the picture: distribution. According to Steve Goldstein from Amplifi Media, there are 600 000 podcasts of which 70% are dead. Which means podcasting is easy to start, difficult to maintain and even harder to monetize. However, as it turns out, both smart assistants and podcasts have signaled 2019 to be "their" year as the public and brands are more aware of them and the growth is outstanding. From my point of view, short episodes are going to be paramount soon, as well as storytelling podcasts. In that regard, Gimlet Media is leading the way with their productions that awarded them an Alexa Conference prize.
Live Streaming
The Alexa Conference social media channels broadcasted several live streaming interviews with presenters at the Alexa Fair and other voice thought leaders . You can catch each of them in VoiceFirst.fm Youtube channel.
The Alexa Fair, an insider view
The stage where I spent most of the time was the Alexa Fair Exhibition. VoiceFirst Weekly had a booth in the podcast section. What I highlighted in our Final Thoughts of the Alexa Conference with Ian Utile was how intimate the fair felt. Visitors had the opportunity to talk for half an hour with the presenters. This doesn't happen in bigger conferences where you might have time to only exchange cards.
What else the fair taught me? What companies are doing in the voice space. It was a timely reminder that despite everything I mentioned above about the growth of voice technology, it's still very early in adoption and business opportunities. My forecast is that is going to be a lot of pivot in the years to come, and not all players will make it to home base. That's fine and expected. Most conversations included the question: what do you think about monetization, or do you know how people are monetizing or who is monetizing? Along with "we are still figuring it out". Aren't we all.
The best of it all though was the opportunity to interview almost all companies presenters, including executives answering two questions: what do they do, and why did they think of the Alexa Conference as a space to showcase their products. This interviews will be available at the end of next week when we are relaunching VoiceFirst Weekly podcast, after a process of rebranding. Stay tuned for those, it is full of insights from the leaders of the companies that are driving voice technology.