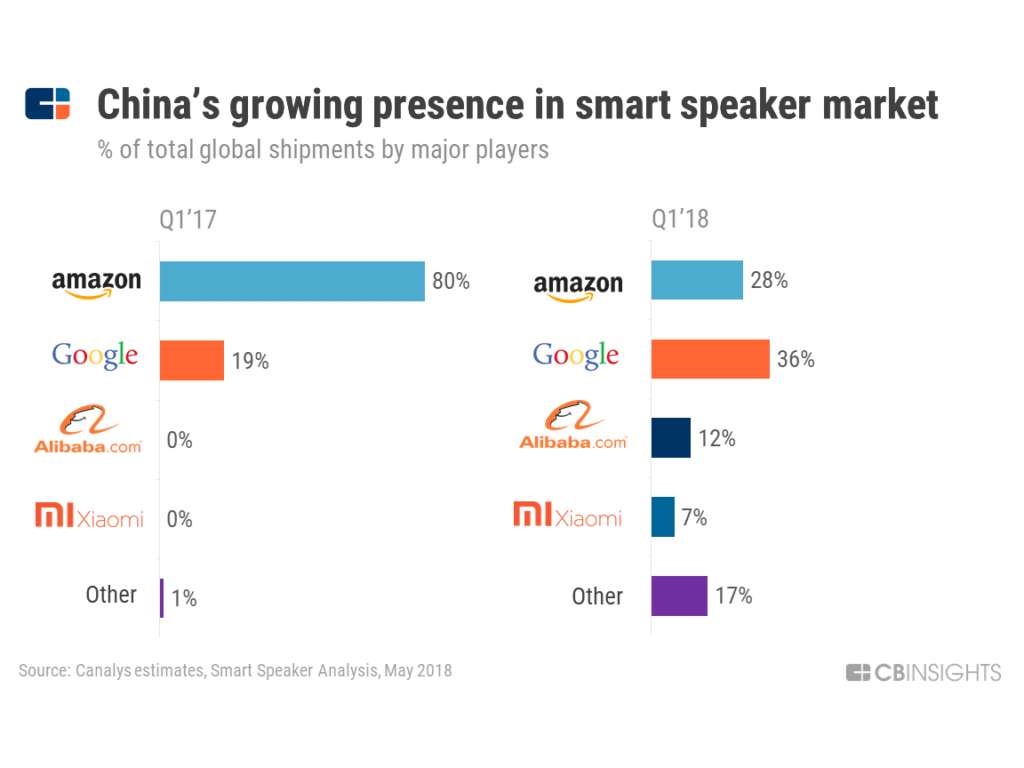 Today, I want to focus on the strong stance Chinese companies have on voice technology and smart assistants and how they are driving a low cost smart assistant market.
Former President of Google China, Kai-Fu Lee, said at the Disrupt 2018 conference in San Francisco this week, that his former company doesn't have very good odds of success if it decides to re-enter the Chinese market. Lee suggested that Google's current management doesn't have the right stuff to compete in China's growing and rough-and-tumble Internet markets. Lee also said it would be hard to find employees as Chinese companies are innovating and new grads prefer to work for Chinese companies. Article from Business Insider.
China is also a market that has proven hard for US companies and neither Amazon Echo or Google Home have penetrated China.
Smart voice is one of the Chinese government's four main focus areas in its first wave of AI applications throughout the country. The other 3 are healthcare, smart cities, and autonomous vehicles here.)
And the biggest companies are all in.
Low cost smart speakers
Alibaba sold its Tmall Genie smart speakers for $15 in China on Single's Day, the country's annual shopping big day on November 11. Baidu recently cut the price of one of its smart speakers in China from $39 to $14. This prices are pushing out smaller companies of the competition and driving high volume usage.
Alibaba's customer service chatbot got upgraded ahead of the coming November 11. The bot it's used by more than 600 000 merchants in its e-commerce sites.
Business models blurring lines
These companies are also changing business models by partnering with US tech companies to use their hardware with their assistants outside of China and partnering with Chinese voice AI startups, or developing conversational AI software in-house to sell within China, where US tech companies face strict restrictions.
Emerging players, partnerships, business models, and a low-cost, high-volume smart speaker market it's what's driving China voice technology.
Thank you for listening. Remember to subscribe, like, comment and share this episodes. My name is Mari, and you can find me on Twitter as voicefirstlabs and on Instagram @voicefirstweekly. Thank you for listening and you have a great day!